Tauranga SeniorNet's location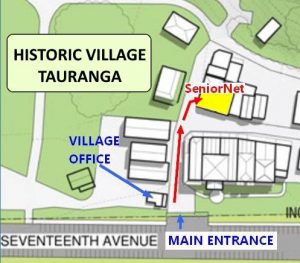 Just as in 2017 and 2018 the construction of the new TECT building and associated developments prevent us from accessing our usual classroom. However, one benefit is that we have been promised major improvements to our premises and adjacent parking spaces.
For the duration of the construction and renovation we have moved to the main part of the Historic Village where there's plenty of room for our furniture, computer setup and office requirements.
If all goes according to plan we will be able to return to our usual rooms in time for the start of Term One, 2020.
Parking
Car parking is on both sides of 17th Avenue. Most of them have a 2-hour limit.
Term Dates for 2020
Term One – 27th January to 9th April
Term Two – 28th April to 3rd July
Term Three – 20th July to 25th September
Term Four – 12th October to 18th December
Contact us at …
Phone: (07) 577 1912
Email: email@taurangaseniornet.co.nz
PO Box 15382, Tauranga